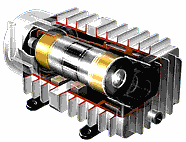 The Linear-motor-driven Free Piston System (Pat.) has an internal piston inside the cylinder which is driven by an electro-magnet and spring system controlled by the alternating input current cycle. The piston thus forms a single combined structure of two usually different devices; motor and pump. The system is quiet and vibration free, and offers the advantages of easy maintenance and a long operating life.
Click here
to download a comparison between Nitto Kohki Linear shuttle pumps and older style diaphragm pumps in Adobe PDF format.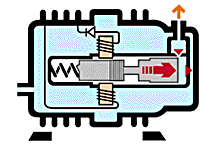 The activated electro-magnet attracts the piston against the return spring, while air is taken into the cylinder through the opened inlet valve. When the electro-magnet is deactivated, the return spring pushes the piston back, and the compressed air is brought out of the cylinder through the now open outlet valve. The system can function as either an air compressor or as a vacuum pump.

The pump's unique and simple structure has no complicated transmission mechanism such as a crankshaft, connecting rods, ball bearings, etc., which are widely used in between the motor and compressor in conventional pumps.
Replacement of the piston is easily achieved by simply removing the end cap connected to the pump housing by unscrewing the four screws which hold the cap in place. Completely oil free construction is achieved by the combination of smooth Teflon® seals with superior resistance against abrasion on sliding piston surfaces and the "air bearing effect" created by the unique air path design.